June, 2022 – The "Not-So-Fun" Facts About Fireworks
Join us on July 5th to help become part of the solution!
REGISTER HERE ON OUR EVENTBRITE: Keep Tampa Bay Beautiful's After the 4th Cleanup Tickets, Tue, Jul 5, 2022 at 8:00 AM | Eventbrite
We all enjoy our time celebrating America's birthday with picnics, libations and sparklers, but the time comes when we must clean up after the party. Join your fellow Tampa Bay residents in helping to protect our waterways from becoming an explosion of unsightly litter.
Keep Tampa Bay Beautiful provides a unique experience for groups to make a local impact in their community. Did you know that 80% of all litter on land will end up in our waterways? By taking a proactive approach, we can all make a big impact in our community!
WHERE: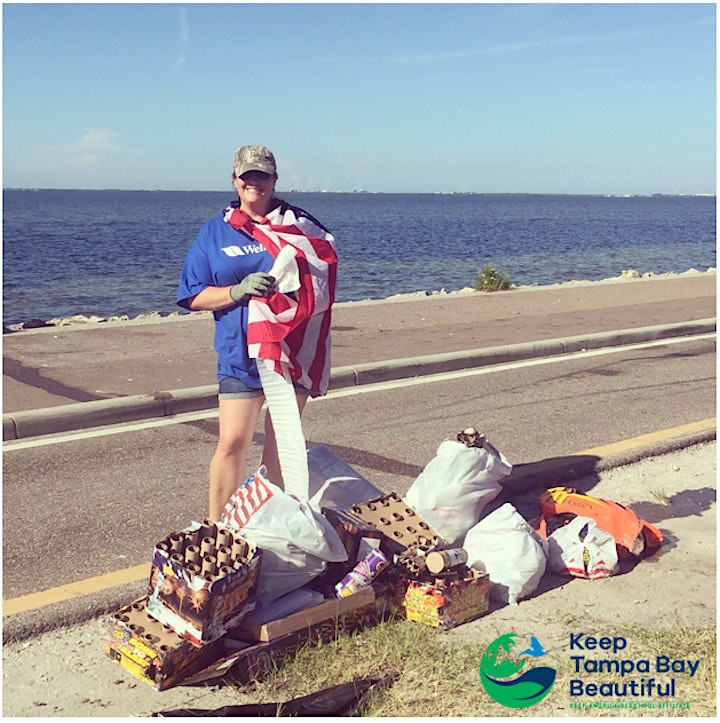 1. Courtney Campbell Causeway South Trail — 8549-8597 Campbell Causeway Access Rd S Tampa, FL, 33615
2. Ben T. Davis — 7798 W Courtney Campbell Causeway, Tampa, FL 33607
3. Cypress Point Park– 5620 W Cypress St Tampa, FL 33607
WHEN:
Date: Monday, July 5th
Check-in: 8:00 a.m. or 9:00 a.m.
Cleanup Time: 8:00 a.m. – 11:00 a.m.
Parking: Parking lot
What to bring:• Sunscreen• Hat/Sunglasses• Protective footwear (close-toed, no sandals or flip-flops)• Reusable water-bottle
Trash bags, water and soft gloves are provided. Promotional giveaways available while supplies last.
Tag us and be featured on our stories! FB: @KeepTampaBayBeautiful Instagram: @KeepTBB
#AfterFireworksCleanup #KeepTampaBayBeautiful #KeepTBB #DoBeautifulThings #TrashFreeWaters
REGISTER HERE ON OUR EVENTBRITE: Keep Tampa Bay Beautiful's After the 4th Cleanup Tickets, Tue, Jul 5, 2022 at 8:00 AM | Eventbrite